The Top Things You Need to Think About When Building a Home
May 28th, 2020 | by Bruce Bloomingdale | Posted in Uncategorized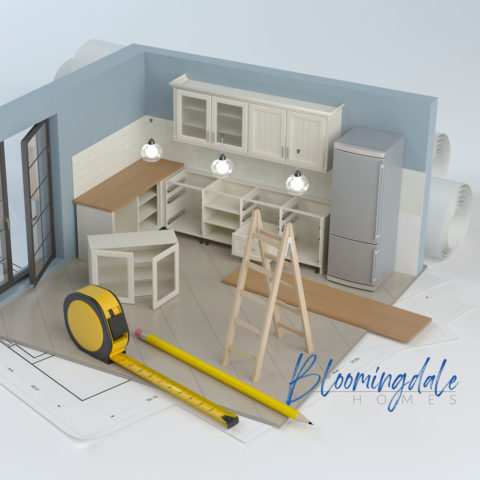 THE CUSTOM HOME CONSTRUCTION PROCESS IS NO EASY JOB, BUT IT IS A VERY SPECIAL EXPERIENCE. HERE AT BLOOMINGDALE HOMES, WE WANT THAT EXPERIENCE TO BE THE BEST IT CAN BE, BOTH FOR YOU, THE CLIENT AND US, YOUR BUILDER.
So, to ensure we provide you with a home you will love for years to come, we created a checklist to help you think through every little detail. The more educated and prepared you are, the easier the process can be. Happy home building planning!
Details You Need to Consider During the Custom Home Building Process:
Design. The best home projects always begin with a solid design. What is the function of this home? Is it a summer getaway that you may sell one day? Or, is it a home that will last you a lifetime? Plan for the present and the future. If you are thinking about designing and building your dream home, Bloomingdale Homes provides comprehensive services including new home construction and large-scale renovations. Visit our website to learn more about our services https://bloomingdaleconstruction.com/about/
Financing Options. For as little as 5% down* Bloomingdale Homes can help you finance your build project. Building a house can take a while, so make sure your family and your pocketbook are prepared. *for qualified buyers. For more information regarding financing options to build your new home, call (248) 651-6701.
Be organized! Keeping track of everything during the design and build process is crucial for your sanity. Come up with a system to organize and keep track of anything from inspiration images to selections decisions and everything in-between and stick with it!
Optimize space. Does every room you're planning have a purpose? Don't just build a room to have it there. Make sure to optimize and organize each space in your new home. If you're rarely going to use that room, don't pay for it to be built!
Trusted Team. This is so important. Find a building team that you feel comfortable with. Don't put your dreams of building your own house into the hands of someone you don't trust. Sit down with the people you will be working with and get to know them. The process of designing and building a custom home is extremely personal and the Bloomingdale team takes nothing for granted. "We are not just designing and building four walls and a roof," says Jenna Campbell, our lead architect and designer at Bloomingdale. "We are creating spaces where anything from simple, everyday moments to milestone occasions are shared, and we work with the utmost care to design every inch of that home to reflect each customer."
Do your ground work! Inspect the ground you want to build on and the rules that come with it. There are laws and codes that your house will have to meet. The faster you understand those requirements, the better. When you partner with us to build your custom Bloomingdale home, you can expect the highest quality help and craftsmanship. Each Bloomingdale home is designed with two key components in mind: the unique site that the home is located on and the one-of-a-kind clients who will live there.
Be prepared to spend. Do your homework and prepare to spend your money. Building a house isn't cheap, but it is worth it. Don't be caught off-guard by a surprise expense. The more you know about the home building process up front, the better off you will be. Create a list of what you want and how bad you want it. Is quartz a must-have that you're are going to splurge on? Decide this now to help you sort things out later. And don't forget about landscaping. Have an idea of what you'd like your entire site to look like in the end and budget for it.
Our goal at Bloomingdale Homes is to work with you side-by-side through the entire home building process. From the moment your idea begins to the completion of your project, we can guide you through it all. In addition to all the big decisions, the smaller details of your build are also still important. Keep in mind these basic questions when planning your new home:
Hallway width
Specialty electrical switches and outlets (remember outlets can be upgraded with USB ports, and more!)
Ceiling heights
The way your doors swing
The lighting of your home, both natural and artificial
Storage for everything. TIP: This is your chance for custom storage!
Are your bedrooms away from noisy areas?
Will the living room be open to the kitchen?
Have an idea of your entertainment system setup?
Where is your mudroom or entryway?
Washer and dryer placement
Outlets in your cabinets?
What type of finishes do you want?
Flooring selections
Heated tiles for cold mornings?
Where are sidewalks, porches, decks, or patios?
What type of outdoor lighting do you envision?
Where is your garage?
Do you want to prep your garage for an electrical charging station?
Is the kitchen near the entrance? Think about bringing in the groceries!
Do you want to prep for an elevator for now or the future for your forever home?
We hope this checklist made you think more about your home's design. If you have any questions, feel free to contact us at (248) 651-6701.