Hard Hats. Strong Women. Building the Future
May 28th, 2020 | by Bruce Bloomingdale | Posted in Uncategorized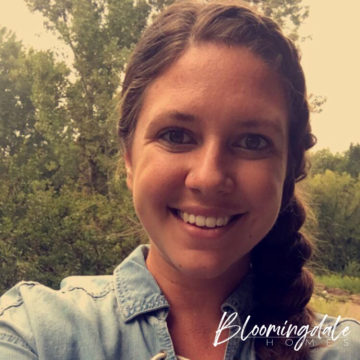 It is not a secret that the construction industry has always been a male-dominated field, but in the last few years we've seen a rise in the number of women in construction. It is estimated that the number of women in the industry is about 9.1%. The good news is that the industry is finally breaking down gender barriers and understanding the importance of a diverse workplace. As our industry faces the ongoing labor shortage, encouraging more women to join the construction field will certainly help fill the missing gaps.
One of these women changing the face of construction in our company, is 28-year-old Assistant Builder & Project Manager, Lindsey Rusin. Lindsey has been a part of the Bloomingdale Homes team since August 2017. While in college earning her degree in Interior Design, she worked as a Color Consultant with Sherwin-Williams. She did her first internship at the Michigan Design Center, in Materials/Textiles. After gaining valuable experience, she did a handful of other internships, which included working with a custom seamstress, classes on automotive interiors, event planning and project management. Upon earning her degree, she accepted a full- time position with KSI Kitchen & Bath, then moved to Bloomingdale Homes.
Currently, she is involved with one of Bloomingdale Home's most high-profile jobs: custom new build homes — responsible for taking the build from ground up to completion. Overseeing subcontractors and working closely with clients through the entire project, Lindsey is currently working on six custom homes throughout Oakland County.
Q: How did you get your job?
I worked for Sherwin-Williams as a Color Consultant at the time and took a side job for one of my clients that I'd recently met. They knew John Bloomingdale and of his company and told me that with my design background and eagerness to help clients, I'd be a great fit for what their company was in need of. He gave me his information and I held on to it for almost a year — got another job in between and then decided that I should give John Bloomingdale a call and see if they were still looking to hire. We spoke and I took a position with them as a Selections Manager — which is still included in my job duties today.
Q: When did you know you wanted to work in the construction industry?
Once I started working for Bloomingdale, it didn't take me long to realize how much I like working with our clients and got to know and connect with our sub-contractors very quickly. I became a vital resource for many of them, since it seemed that I was more organized than what they were used to. I made sure they had all of the things that they needed from us to complete their jobs and made things more stream-lined, which in-turn, helps them succeed and make money.
Q: Is there someone in particular in your life that led you to this career?
Not a particular person, but my interest in design is what led me into the building industry.
Q: What are some of the challenges you have faced as a woman in construction?
Being younger than everyone else in the industry definitely caused me some headaches and challenges, but I would say that being a woman, most of the time, benefits me. I think people are intrigued by that and more susceptible to listen. Once they hear that I am educated in the project and can answer questions for them, they call me more than my Superior!
Q: What attracted you to construction work?
I've always been interested in design and finishes, so naturally I was intrigued with building and construction, since design is heavily involved. I enjoy working with people and the planning and coordination this process involves. Having the ability and knowledge to take something from just a drawing to the full-blown end product is rewarding to me. The positive feedback from the past customers and suppliers has helped me realize that this is a good field for me to be in and still get to use my creative thinking.
Q: The number of women in construction has been on the rise. What do you think are some of the advantages of being a woman in the construction industry?
All people (customers, suppliers, inspectors and contractors) are very intrigued when they see me on our construction sites. I feel that makes them more prone to communicating with me and once they realize that I have the knowledge needed, they utilize my organization and ability to understand their trade and see the big picture, while helping them work with our clients and other subcontractors to be successful and make money.
Q: There are physical and emotional challenges that come with working as a woman in construction. What are some of the challenges that you face as a woman?
The challenges are that some people don't listen to me when I give direction or try to help them understand something. Some think I'm inexperienced. Sometimes it's that people are nervous to talk to me and therefore avoid me. People that are much older than me, (mostly everyone is) don't want to listen to a young girl, but then they come around and realize it's the young people that keep the world moving.
Q: What would you say about the construction industry that would appeal to the next generation?
There is a need for young people in this industry, as well as a very fast-growing demand. We need more education offered to young people, so that they learn about this industry at a young age and can choose to go-into, or study it.
Q: The construction industry is embracing the advancement of women. What advice would you give to a young woman entering the industry now?
This industry lacked a lot of what we women have to offer, and I think that we need to take advantage of that. Don't think that this is a "mans" industry and that you don't belong. We bring vital skills that make things run smoother and more education needs to be available for this.
Q: What has been the most surprising part of being a woman working in construction?
That people actually want to work with me and respect me as the builder. They believe in me so much, that they try and help me learn and be successful. They have realized that this will benefit them also. I have met so many great people that I will hope to continue to work with throughout my entire career.
Q: What advice would you give someone starting out? Don't let the people that don't believe in you impact your effort and abilities — Because there will definitely be many people that try to make you think that you can't do it. You know you better than anyone, believe in yourself.
Q: What is your favorite hard hat sticker? Life's A Garden, Dig it!
Q: What is your most valuable certification? What was the most challenging? I am working on getting my Builders license and it is a lot more difficult to obtain than it was before, so that and working full time is tough, but I am almost complete.
Q: What would surprise us about you? I am a total home body and love relaxing at home with my two dogs.