The End of Social Distancing is Nigh: Top Must-Have Features in a Home Built for Entertaining
July 17th, 2020 | by acobb | Posted in Uncategorized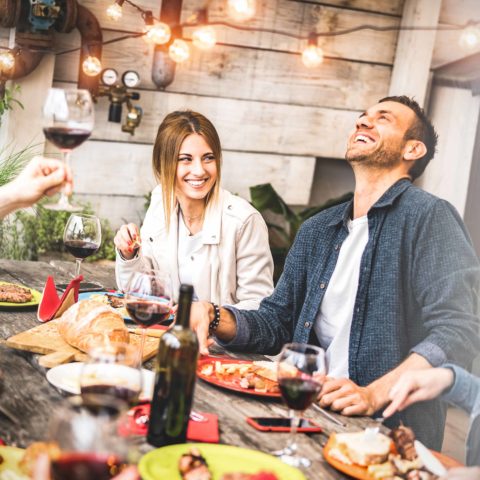 The End of Social Distancing is Nigh: Top Must-Have Features in a Home Built for Entertaining
Dreaming of building the perfect home for celebrating the end of lockdown & Fourth of July with friends and family? Make a striking impression on your guests with our must-have features making your house the home where everyone wants to gather…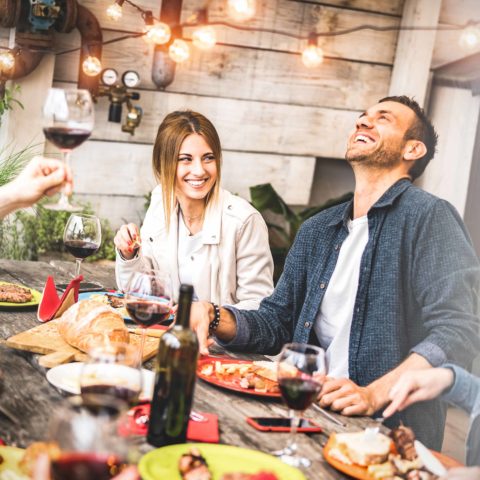 Wet Bar
Wet Bars are making a comeback! No longer an interior feature stuck in the 50's and 60's, a home bar is right on trend today. Having your very own bar at home is an excellent way to relax with family and friends after a long day at the office or during a weekend gathering. Our grandparents knew exactly what they were doing when they would install wet bars in their homes. Now it's time for a bar comeback and to revive this first-class home accessory!
A home bar is a sacred space to unwind – you want it to reflect your personality and taste. Bloomingdale Homes can help you design a bar made for merry making, whether it's cocktails for the grown-ups or homemade lemonade for the little ones. So, when planning your new home design, consider including a wet bar where guests can linger and chat for maximum entertaining.
An upgraded version of this popular design can include ample storage for glassware, bar sink and dishwasher to help contain the clutter and mess. And, why not add a mini-fridge for those cold cocktail mixers? Another great accessory could be a warming zone for appetizers.
Your home bar can be set up as a different part of the home, for example in your basement. But, if space is at premium, one of the best options we suggest is a living room bar, where you can still have everything you need to create the perfect spot for entertaining, and enjoyment. We suggest your bar blends harmoniously with the theme and style of your interiors, whether it may be traditional, transitional, contemporary or modern. We can help with different style guides in order to come up with a cohesive design for your bar, giving you an entertaining space that flows with the traffic of your home and fits seamlessly with the layout of your new build. Plus, having a well-appointed home bar can also help distribute your guests away from the kitchen – oftentimes during a party, the kitchen is the hub since everyone congregates around the food and drink.
Home Theater
Home theaters are no longer an extravagance for the multi-millionaire home builder. Thanks to more affordable technology, many families are enjoying a true movie theater experience without leaving home. If you're thinking about including a home theater, Bloomingdale can help incorporate a movie room into your new home build or renovation. When planning the ideal space for a home theater, think of a space that is relatively isolated from the rest of the house, so it is an entertaining area that is not interrupted by other rooms in your home. For example, you don't want the movie goers disturbed by a conversation in the adjoining room. Good options for where to place your home theater include: building a theater wing off the family room, closing in the open second-story space above a formal living room, or converting part of your basement that's at least 12 by 12 feet.
Pre-planning your home theater's construction is an important step that can make the finished product really shine. Bloomingdale Homes' team of experts can create a design layout to help you plan wiring, lighting, seating and soundproofing, making sure that your finished movie theater is the perfect environment for kicking back and relaxing with family and friends. You will be the envied house when you host your next Superbowl party, for sure!
Outdoor Living Area with Fireplace
We all want a "WOW" feature in our home … a look that transforms our living space to unique, and maybe even breathtaking. A great outdoor living area with a fireplace can do that! Upgrading from a fire pit in the yard with a lawn chair, to a full-scale living space complete with built-in fireplace will certainly give you that outdoor 'wow' factor.
Creating an opulent outdoor living space with a romantic fire and a plush outdoor sectional, is a great consideration, especially if you plan to do outdoor entertaining in warm months. You can really knock your home design out of the park by having a fireplace that speaks to the indoor style of your home, creating true symmetry. With summer on our minds, the thought of relaxing by the firepit and roasting marshmallows is tempting, and inevitably magnetic. This is especially true if the living space is well-designed and accompanied by picturesque landscaping views. A fireplace oasis furthers the outdoor connection of your home and is the perfect place for evening entertaining. As a Michigander, you know that our summers are short lived, but outdoor fireplaces are the best way to ensure you'll enjoy your outside space through the cooler seasons too. Stone fireplaces are not only stunning, but also are weather-resistant as well, therefore a great option when it comes to outdoor fireplace designs. The surrounding area can be dressed up or down, but a comfy seating area around a fireplace is always a must. Whatever your fireplace needs are, we can help you design and build one so you can stay home in style this summer with an outstanding outdoor entertaining space in your new build home.
Open Floor Plan
Open concept home designs continue to be popular. Great rooms which combine kitchen, dining and living areas that are both functional and stylish has become high on the list of urban oasis must-haves. There are fewer and fewer requests for separate formal living and formal dining rooms. Open floor plans enhance interaction among family and friends, and they also make smaller houses feel larger. Including a large kitchen island in your new house design, where there's plenty of room for your family and guests to mingle, do homework and prepare food is a great way to make the heart of your home the best place to entertain.
If you frequently entertain guests in your home, or love hosting dinner parties, it's a good idea to turn a functional area like a kitchen, into a beautiful focal point that's fit and fun for gatherings. Bloomingdale can help you avoid claustrophobic kitchen layouts with tight corners or islands that are placed too close to the walls. A door-less, open-plan kitchen is a wonderful design concept, as it creates an inviting and spacious atmosphere, plus a prime social zone.
You may want to include as many windows as your budget will allow. Flooding your floor plan with light is a great way to make your space feel larger, more open and brighter for entertaining and daily living. Innovative lamps, lighting and fun backsplashes can also add character to your kitchen, transforming it from a utilitarian space to an area for fun. A good entertaining space should have a look that's consistent with the overall design of your home, so we would suggest using similar textures, finishes and colors as the rest of the space.
Flexible Spaces

We all want a living space that is unique to our family's needs, and flexible spaces are a trending feature of new home builds. Make valuable use of your floor plan by building a room that can serve as a guest bedroom, home office, playroom, or a craft room. Buyers now demand these types of spaces that are able to be used flexibly when they first move in, and that can be switched up as the needs of the family change over time, making your house a forever home. Design your floor plan so that you can easily add a home theater, music room, or game room later for more entertaining space in your home. Plan your home in a way that allows it to continue to grow with you and your family and the changes and milestones life brings. Bloomingdale Homes can help you design an amazing floor plan that gives you the flexibility to do whatever you want with the rooms as your family grows and changes.
Indoor-outdoor connecting space
Indoor-outdoor spaces are very popular with new home design. An open-air concept is possible, even in Michigan! People are looking for comfortable outdoor living areas that are connected to the inside by French doors or patio doors that can be opened wide so the indoors flows into the outdoors.
With help from the creative team at Bloomingdale Homes, we can install bi-parting patio door systems available through our local door manufacturers. They are one of our favorite ways to bring fresh air and sunshine into your new build. If you are thinking of designing your new build with a patio, garden, balcony, or courtyard, have your kitchen next to (or near) these areas, so that dining alfresco can be an option.
Also, by designing your floor plan with good circulation and connectivity to your outside space, you won't have to worry about it being too cramped, as the crowd will naturally spill over to other areas of your home, including your outdoor space. Creating a family indoor-outdoor hangout space that is both luxurious and cozy will take your space from ordinary to whoa! You can even add them to your master bedroom for a seamless connection to your own private balcony. We can help you choose glass type and door style to maximize efficiency, while creating a custom feature in-line with your home's architectural design, giving you the perfect indoor-outdoor new build forever home.
If you want to build a space you can share with friends and family, call our team of expert house designers & builders at (248) 651-6701 to see how we can build you a home fit for entertaining.